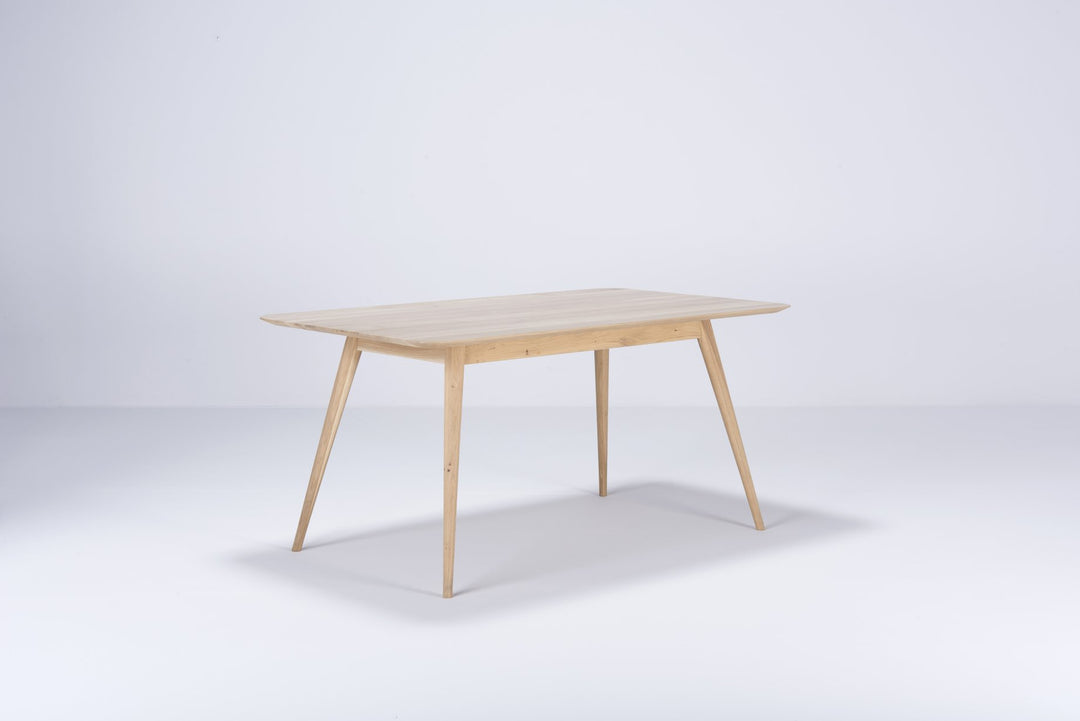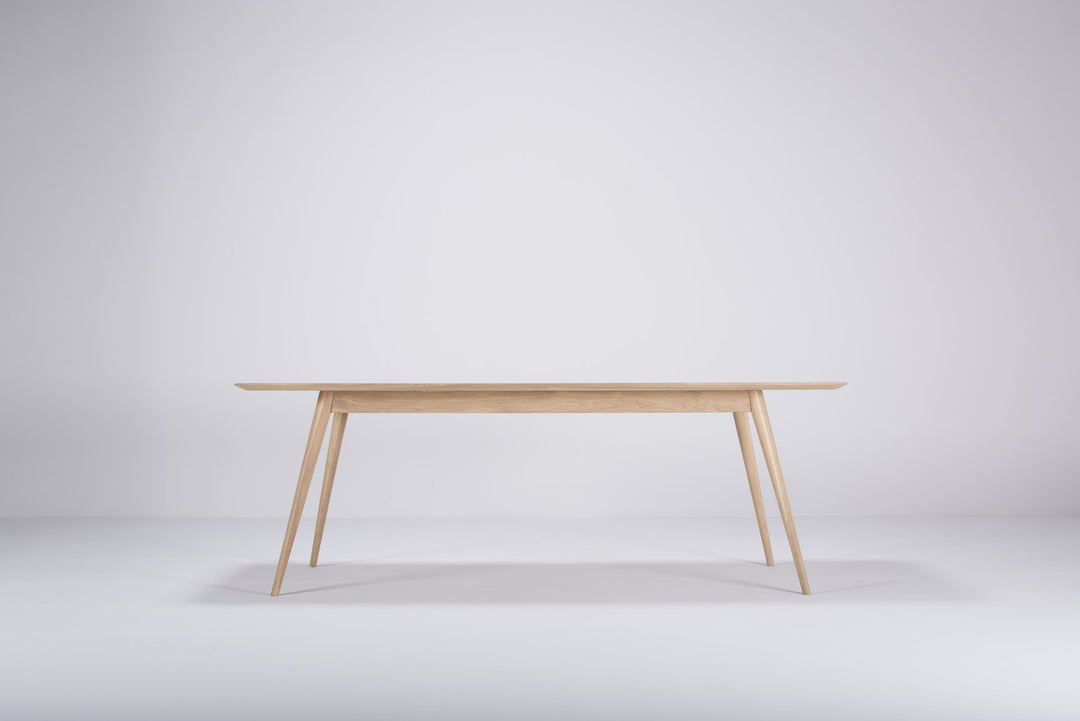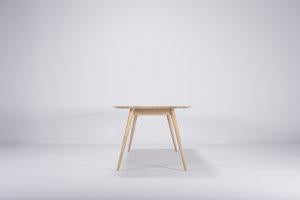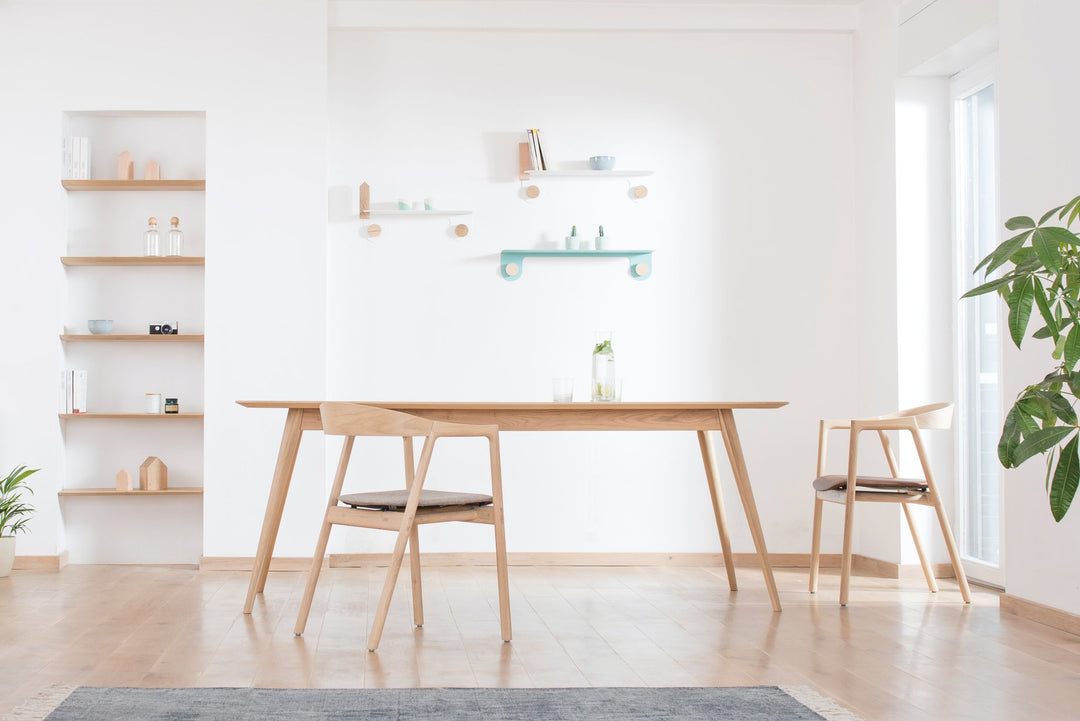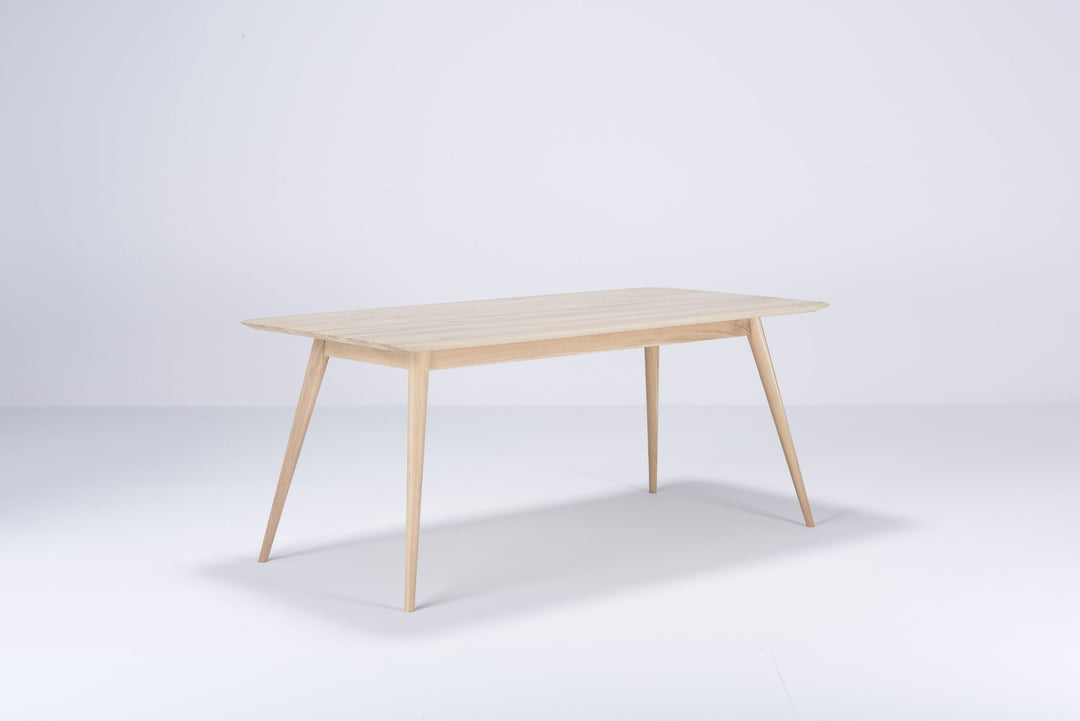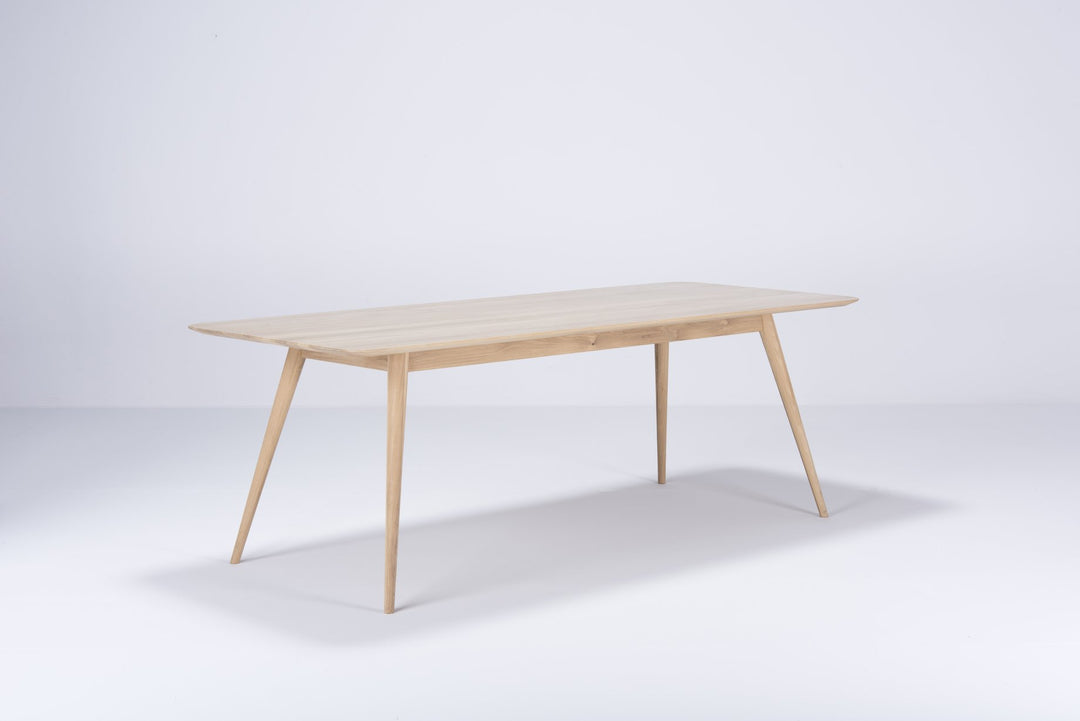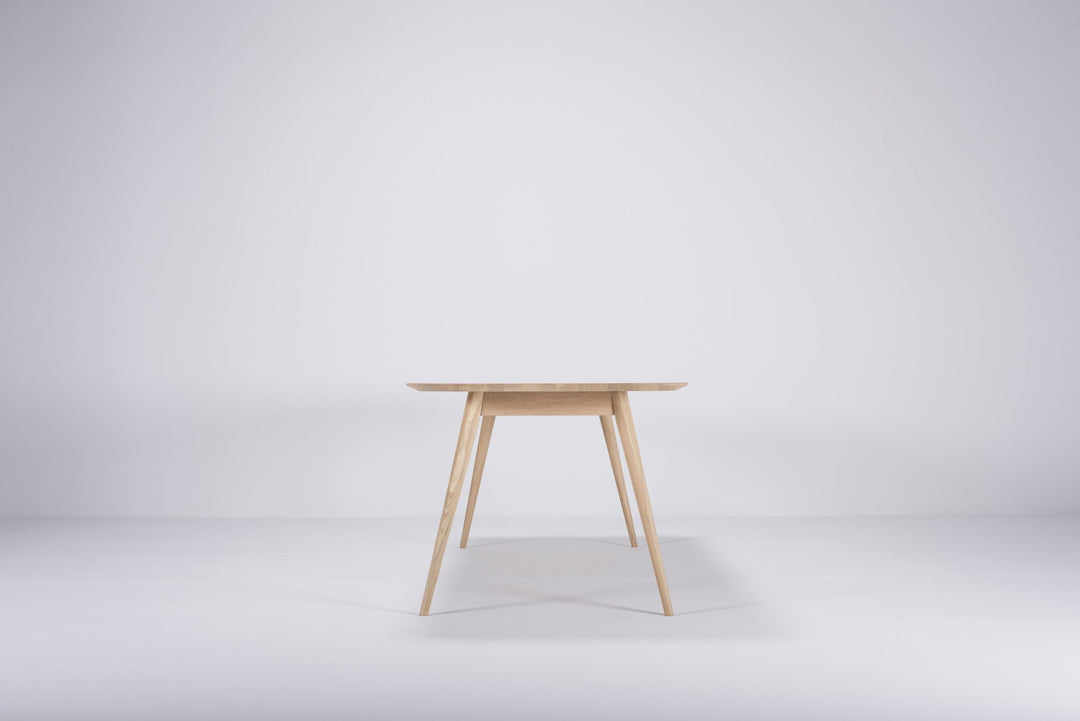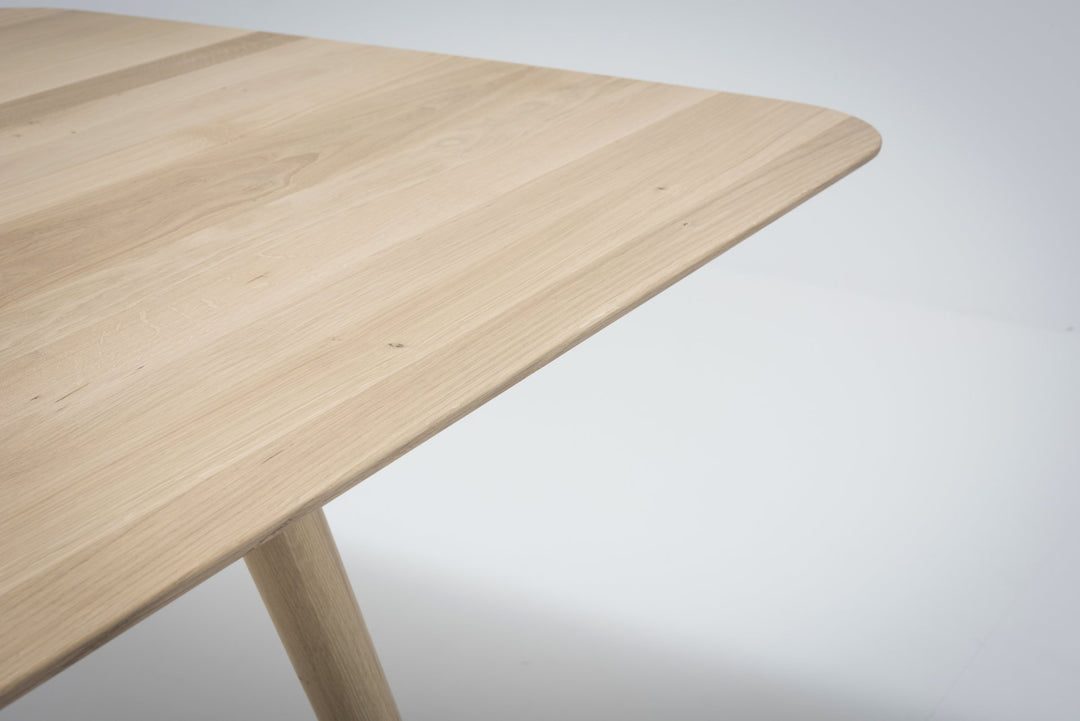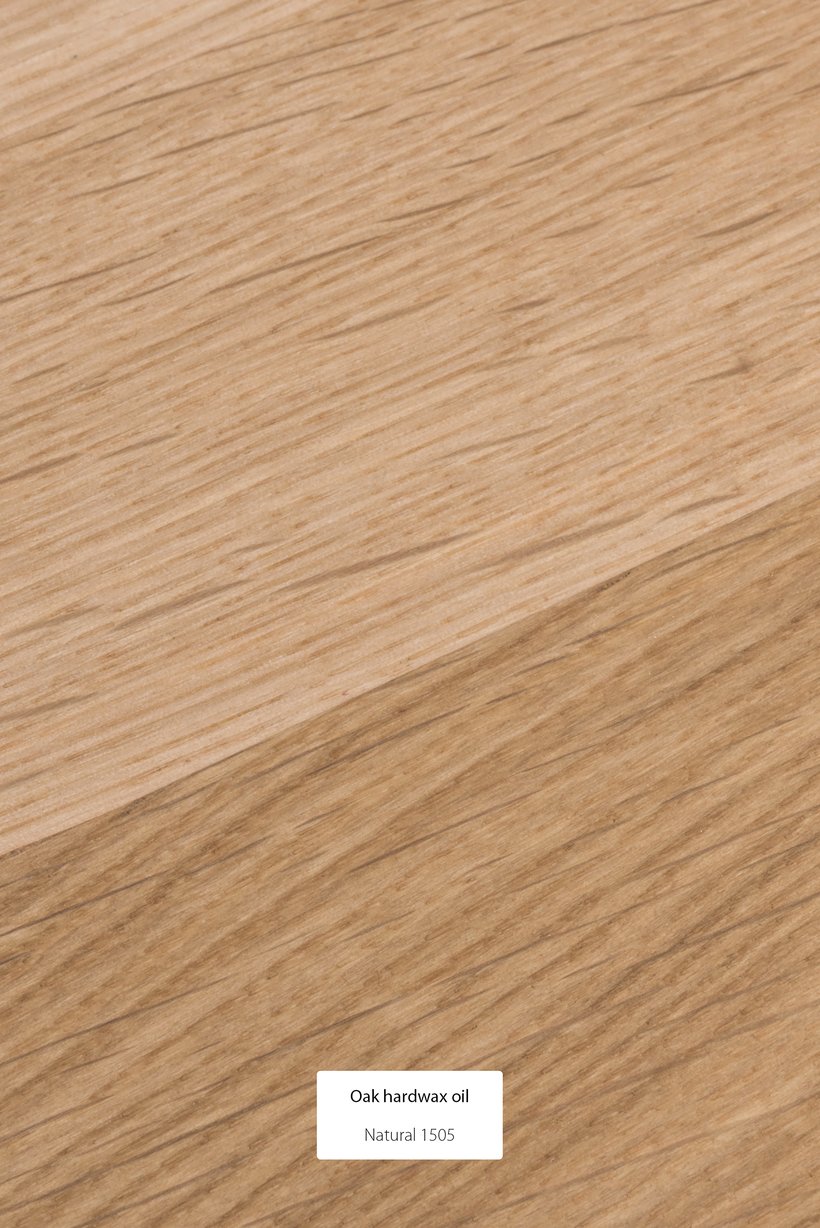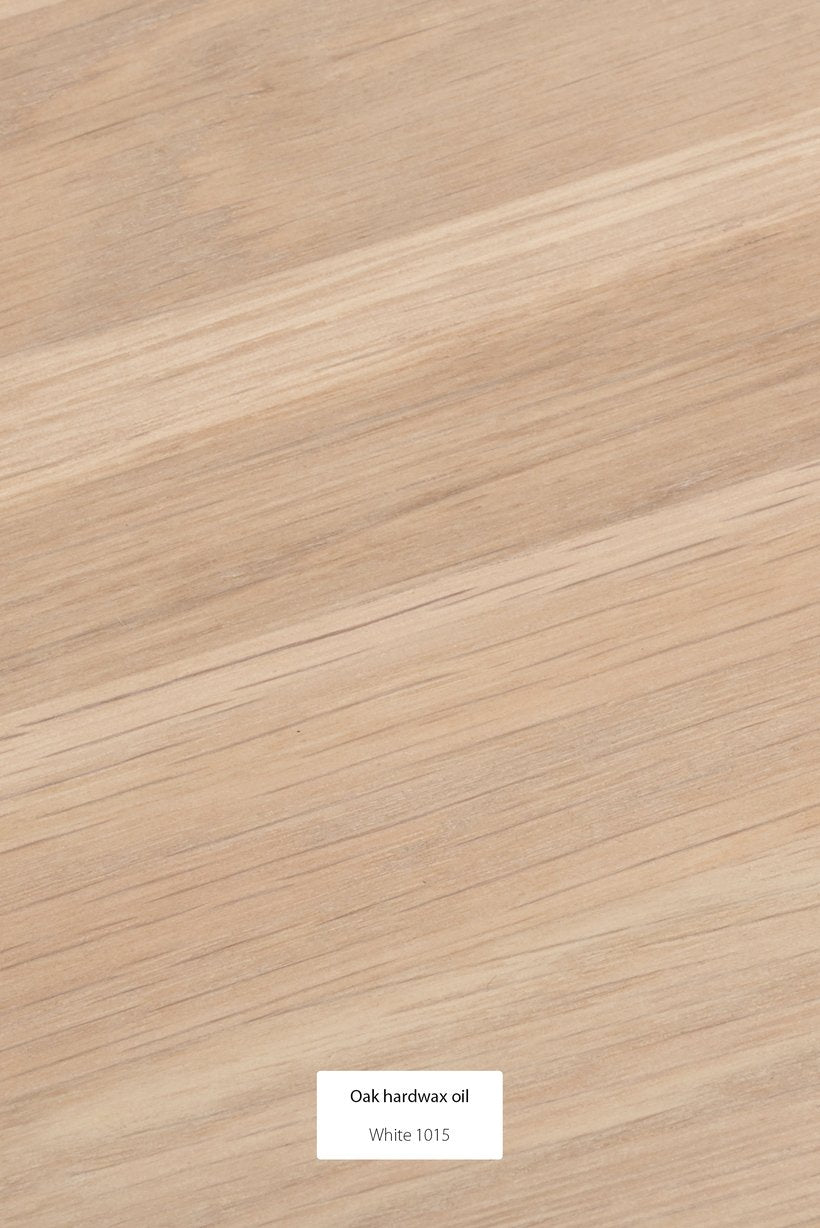 STAFA square solid wood table made of oak
Regular price
€1.220,00
/
Tax included.
Shipping
calculated at checkout.
Herstellung nach Bestellung
---
This solid wood table would also fit in a modern alpine hut. Sleek and unfussy, classic and with tapered legs that look a bit like a milking stool.
The Bosnian company Gazzda knows what good and timeless design is that you can't get enough of.
Like most of Gazzda's furniture, the table is available in white oiled and natural oiled and in different sizes.
Dimensions
Height 75cm
Depth 90cm
Length optionally in 140cm, 160cm, 180cm, 200cm or 220cm
delivery
Delivery within Germany is included in the price.
The table is delivered as a flat package. It's easy to set up yourself. For an extra charge, our forwarding agent will also be happy to take over the assembly.

is a designer furniture brand from Bosnia and Herzegovina that not only values good design, but also the quality of its craftsmanship. At Nauli & Stories we like things that came to stay. When we saw Gazzda's furniture, it was clear. They suit us! We have been Gazzda dealers since 2018 and we are delighted by the enthusiasm of our customers and the trusting cooperation with Gazzda every day.
Cost of Delivery
69 euros for curbside delivery at the nearest available parking space for the delivery vehicle. (You take care of the transport to the point of use yourself.)
139 euros for 2-men-handling to the point of use in your home / office. Our forwarding agency brings the furniture to where it is to be assembled.
229 euros for 2-men-handling to the point of use including assembly service. Our forwarding agency assembles the furniture at the point of use and disposes of the packaging for you.
What do I have to consider as a customer?

In order to ensure that the delivery process runs smoothly, you as the customer are obliged to ensure that the furniture can be delivered to your address in accordance with the Road Traffic Act.
You are also responsible for ensuring that the furniture can be transported to the point of use using 2-man handling.



Do you ship in other countries?

Currently we can only deliver within Germany. The cost of international shipping is so volatile that it's simply not possible to make an offer that will still apply once Gazzda or Montana has finished the piece of furniture. As soon as this changes, we will of course be happy to deliver to Germany's neighboring countries again.
Who delivers?
We or our furniture forwarding company. We reacted flexibly to the challenges of the pandemic and delivered as many pieces of furniture as possible ourselves. This enabled us to make shorter delivery times possible. Fortunately, from November 2022 we will be able to increasingly rely on our reliable forwarding agency again.


Who is assembling the furniture?

You can book the assembling of your furniture during check-out. If you decide to do so later, we will be happy to send you a separate invoice.
Unfortunately, it is not possible to book the assembly at short notice upon delivery or shortly before delivery.
How is the delivery appointment made?

As soon as the delivery to us or our forwarding agent has been announced by Gazzda or Montana, we will contact you. For furniture that we deliver ourselves, we usually make a delivery date proposal right away. If your piece of furniture is delivered by a forwarding agent, a little patience is usually required until the forwarding agent reports to you with the date notification. Unless otherwise suggested by the forwarding agent, deliveries are made during normal business hours from Monday to Friday. On request, after-work or Saturday deliveries are possible for an additional charge.
How long does the delivery take?
All Gazzda furniture is made to order. Shipping usually takes 8 to 12 weeks.
Do you have furniture in stock?
Very rarely do we have individual items in stock. If an item is in stock in our warehouse this is clearly stated in the product description.
Can I pick up my furniture in Munich and save money?
Yes, if you can come by relatively flexibly in terms of time, you can pick it up yourself. We would be happy to make you a separate offer. Please use the contact form.
Can I order special sizes?
For Gazzda, special dimensions are only worthwhile for large quantities. So if you want to set up a hotel, there is a good chance that Gazzda will produce it especially for you. No special dimensions are made for production numbers of less than 25 pieces.
Can I order a piece of furniture with my own upholstery fabric?
Yes, this is now possible! To determine if your upholstery material is suitable, Gazzda needs a 60 x 60 cm piece of upholstery fabric or leather.
If you are interested in this service, please contact us.


Can I have fabric samples and leather samples sent to me?

Yes, we are happy to lend you samples for a nominal fee of 85 Euros. This includes shipping - and return shipping within Germany. The samples must be sent back to us within 3 weeks. The protection fee will either be charged in full with your order or we will refund it minus a processing fee of 15 Euros.
Can I reorder individual parts?
The new headboard for your bed, for example? Yes, that is possible. We are happy to make a price inquiry with Gazzda. However, the prices are high compared to the overall price of the furniture.
Our recommendation: Deep Frame!
If you want to remain flexible in the future when it comes to your slatted frame, we recommend that you opt for the "Deep Frame" version. Here the mattress sinks deeper into the frame, which we personally find more comfortable.
As a reminder: The "normal" Fawn has a frame height of 10cm. The bed base of the "Deep Frame" is 14cm high. The design hardly loses anything in terms of filigree.
Nevertheless, both versions are of course beautiful! If you are unsure, please contact us!
Showroom and concept store in Munich
The FAWN bed is currently in our exhibition in the Deep Frame version with a leather headboard!
We are looking forward to your visit:
Nauli & Stories 
Adalbertstr. 10 - 12
80799 Munich 
80m from the subway station Universität and the Siegestor
Find the way Google maps .